Gathering the experiences from my 40 years of learning, 20 years of teaching and 9 years of being a mom….Today, I launch Koala Coach! I am so excited to share my passion for stress-free, playful learning. I want parents to have the tools to easily fit reading, math and writing into the busy schedules of daily life.
After my kids were born, I found it challenging to make the teacher schedule and the mom schedule work the way I wanted it to. After many years of teaching in the classroom, I started a private tutoring business that allowed me to continue the meaningful special education work I was doing with students, but also afforded me the time to be with my own children when they needed me.
Since I am a special education teacher, I originally started my tutoring business to work on reading and math skills for students who have learning disabilities. However, lately I am finding that parents of students with and without learning disabilities are hiring me to simply work on homework completion. Homework is stressing parents and kids out. Homework is making the small amount of time parents have with their children a time that is filled with yelling and tears.
Recently, A note went viral from a second grade teacher who decided not to assign homework this year.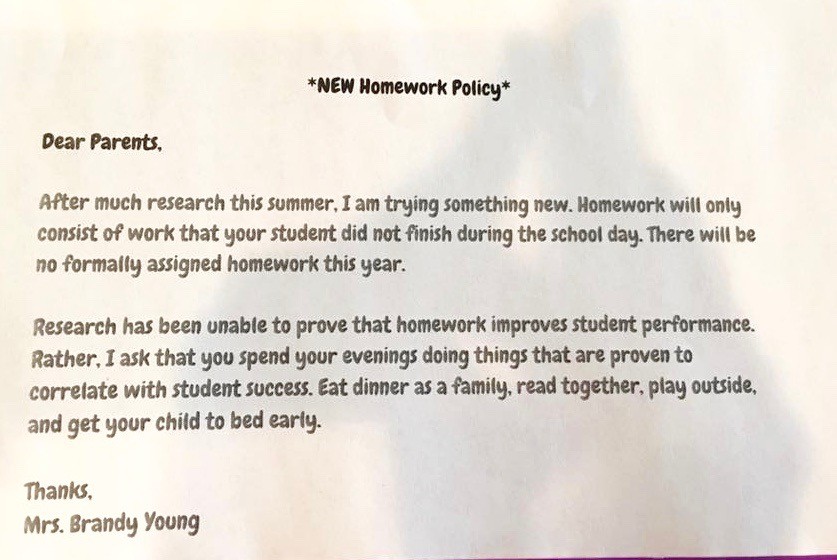 I have mixed feelings about this letter. On one hand, I agree with this teacher, homework should not add stress to a family. I also agree that homework should not take away from meaningful family time. And definitely, homework should not be the cause for late bedtimes and sleep deprivation.
That being said. I wholeheartedly believe that work at home is critical for school success! The right type of homework absolutely does improve student performance. Skills need to be reviewed and reinforced at home. Students simply can not learn material deeply enough to really know it …. Unless they are given additional review time that occurs outside of a busy school day.
A parent should never be in the position of teaching material to a confused student. The ONLY homework that should ever be sent home should be stress-free meaningful activities that students can easily do independently or can happen while they are doing the other activities of their day. Homework should never be a waste of a student's precious time.
I think not assigning homework let's teachers off the hook from thinking about creative, meaningful ways to practice already taught skills. Not assigning homework lets parents off the hook as well. Parents have a responsibility to work on academics -- but it doesn't have to be stressful!
I believe in order for our kids to be successful in school we as parents need to share the responsibility with schools to educate them. It is the job of a parent to inspire their children to love learning. An effective way to accomplish this goal is to create natural playful learning environments as part of a daily home life. Parents should enjoy their children, have fun with them, and teach them at the same time.

Lena Fishman, Founder, Koala Coach: www.koalacoach.com